Drug Discovery and Development Unit
Introduction
The department of Drug Discovery and Development Unit (DDDU), is established on the year 2021, this department has a unique place in the development and discovery of drugs and other related research. This department is a part of National Institute of Ayurveda, NIA, Jaipur. Drug discovery and development unit (DDDU) is a CPCSEA registered unit to conduct various scientific researches on animals, animal tissue and pathogens to meet the requirements of advanced pharmacology research on Ayurvedic medicines for development of new formulations and generate scientific evidence of safety and efficacy of ayurvedic medicines.
The Registration number of thus animal house facility is 2128/GO/ReRc/S/21/CPCSEA and the registration is valid up to five years from the date of issue of the letter. This animal facility is intended to assure qualities maintenance and safety of animal used in studies while conducting different researches. The most commonly used animals are Rat, Rabbit, Guinea pig etc. At present, the department provides an integration approach towards education and various research and development of the institute.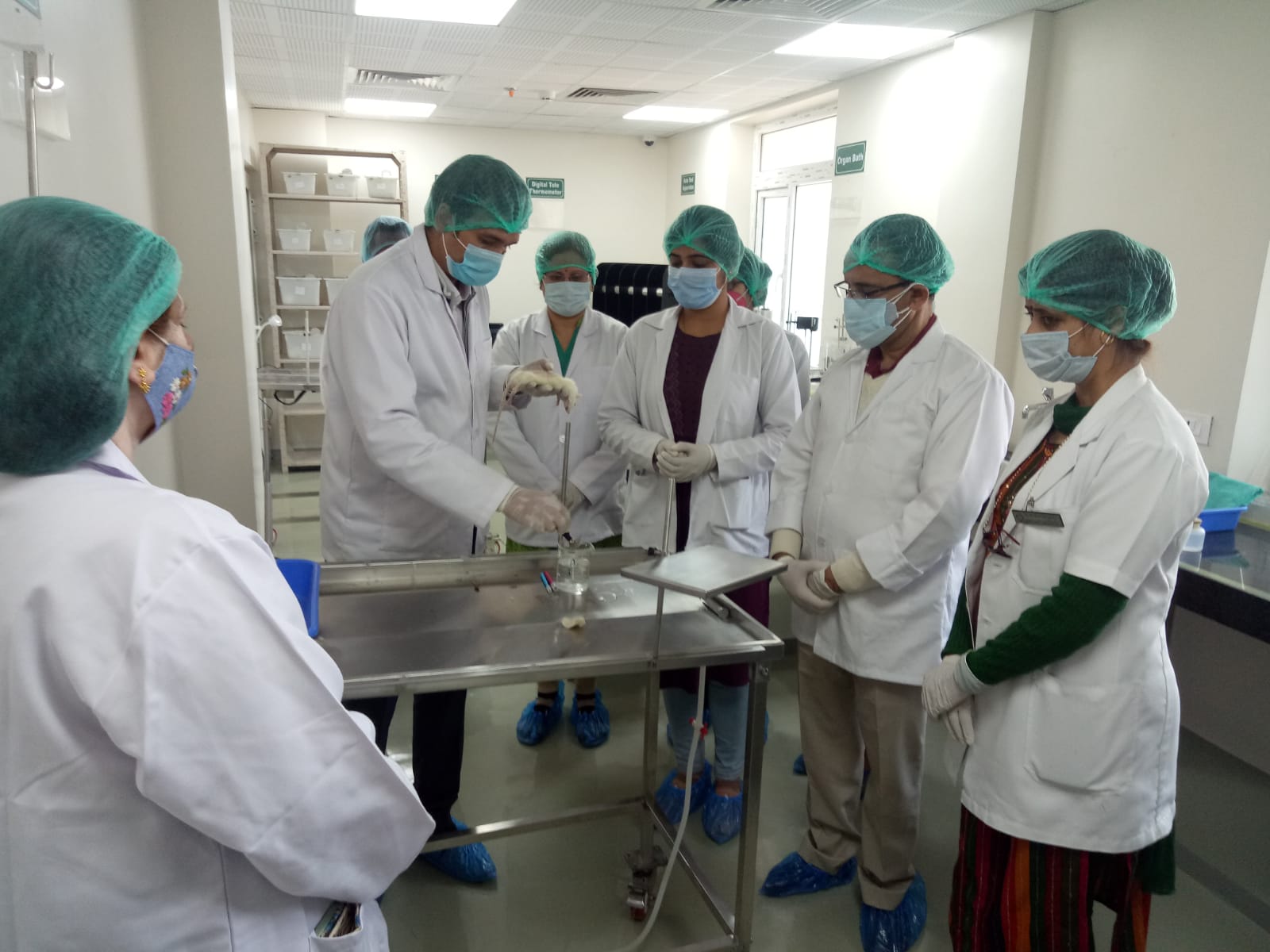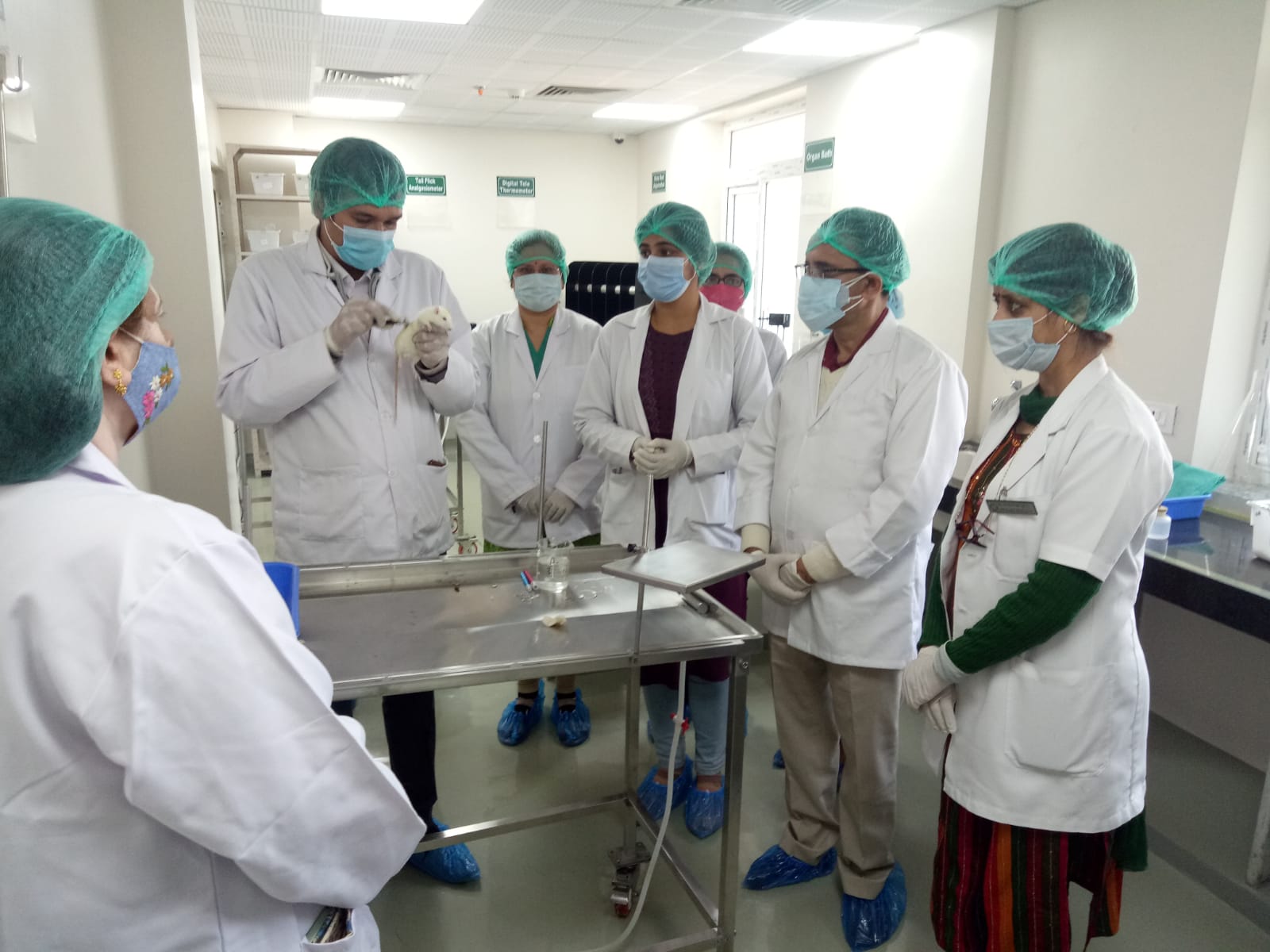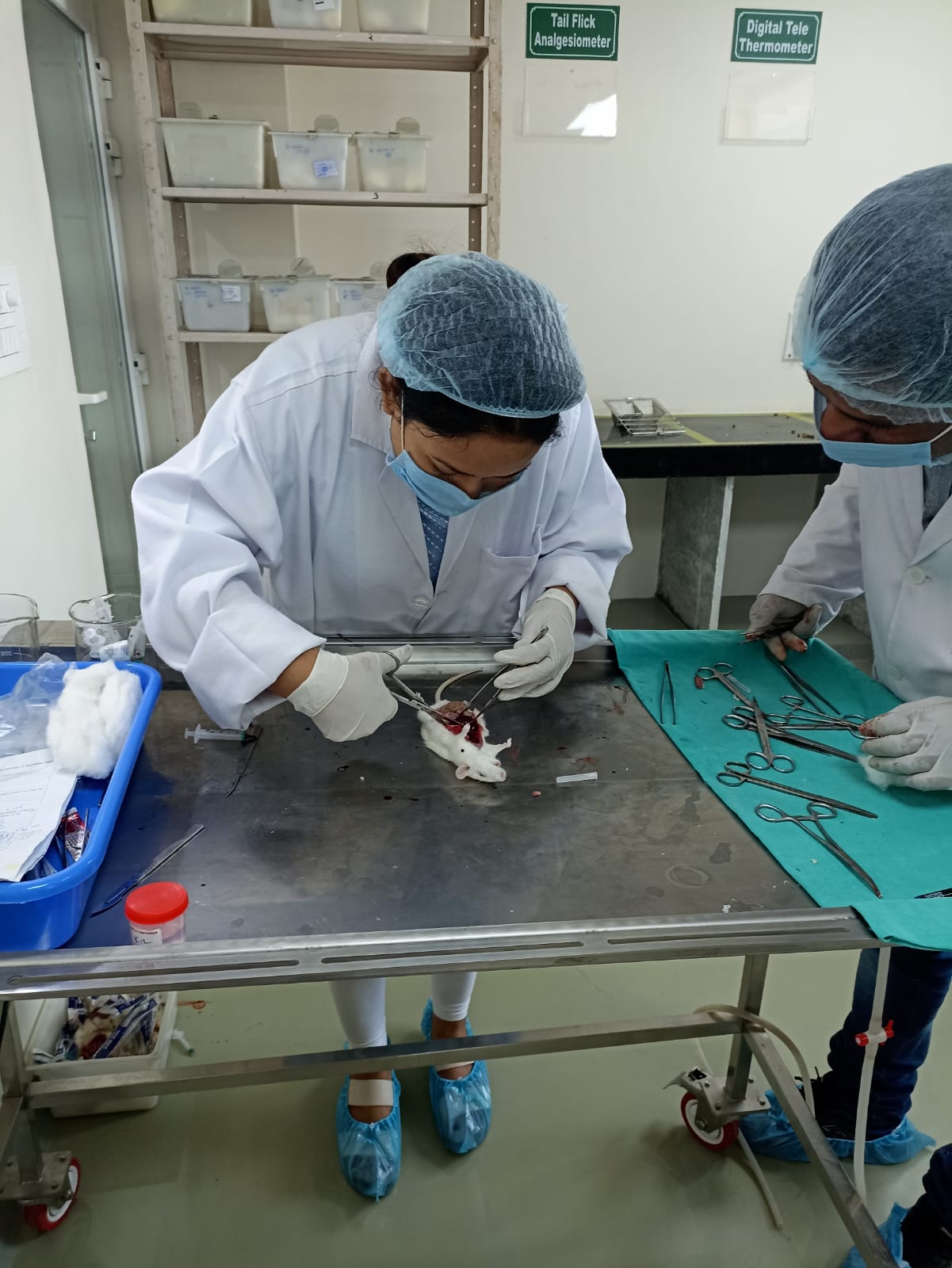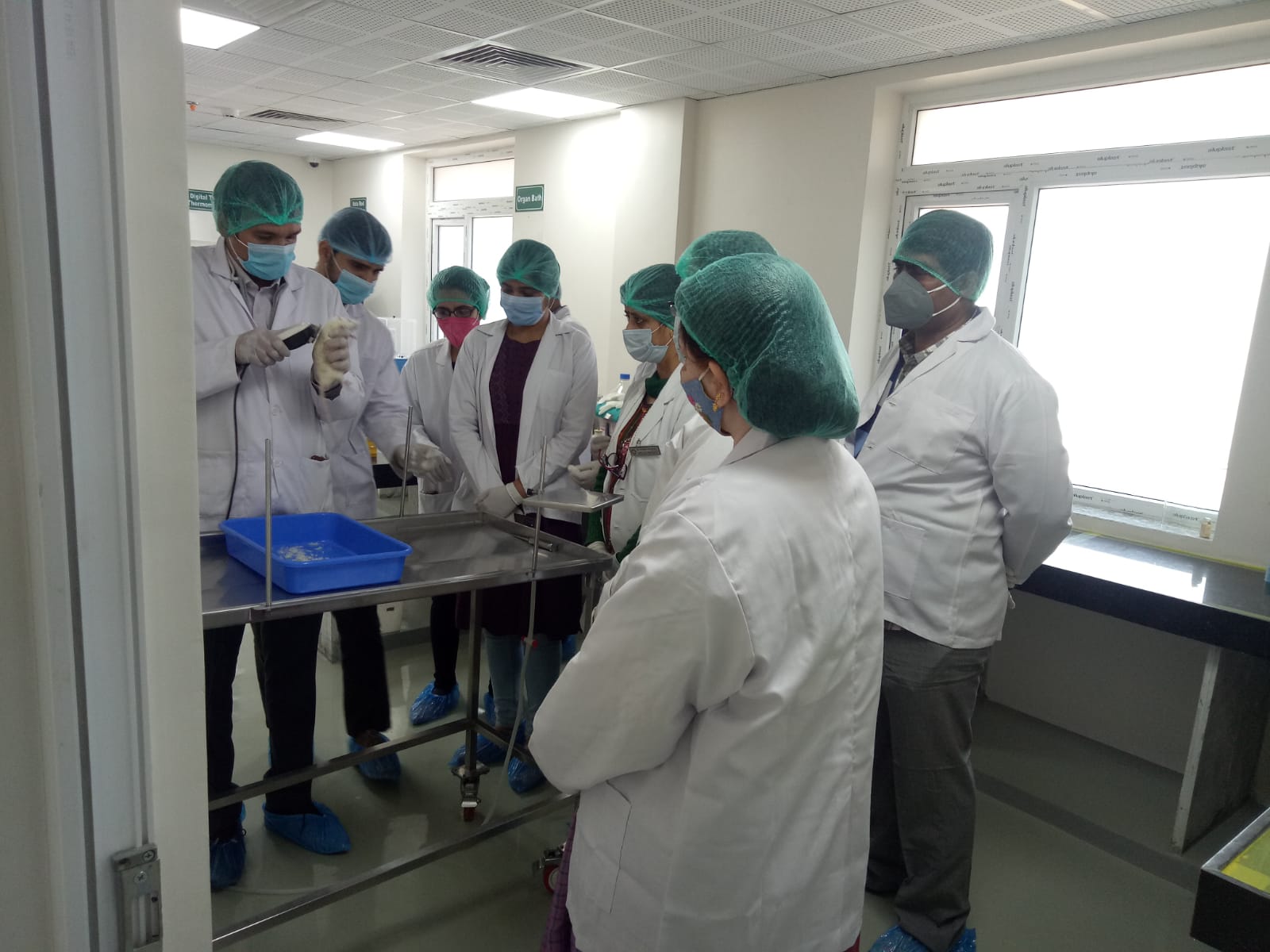 1. To impart education of Under-Graduate, Post-Graduate and Ph.D. students about therapeutically used substances both at a fundamental and applied level.
2. To create evidence bodies for rational therapeutic with these natural substances.
3. To establish quality control parameters of natural therapeutic substances.
4. To undertake research in a synthetic manner so that the essence of Ayurveda gets global acceptance while maintaining its originality.
5. To produce quality researchers and teachers in the field of Ayurvedic drug research.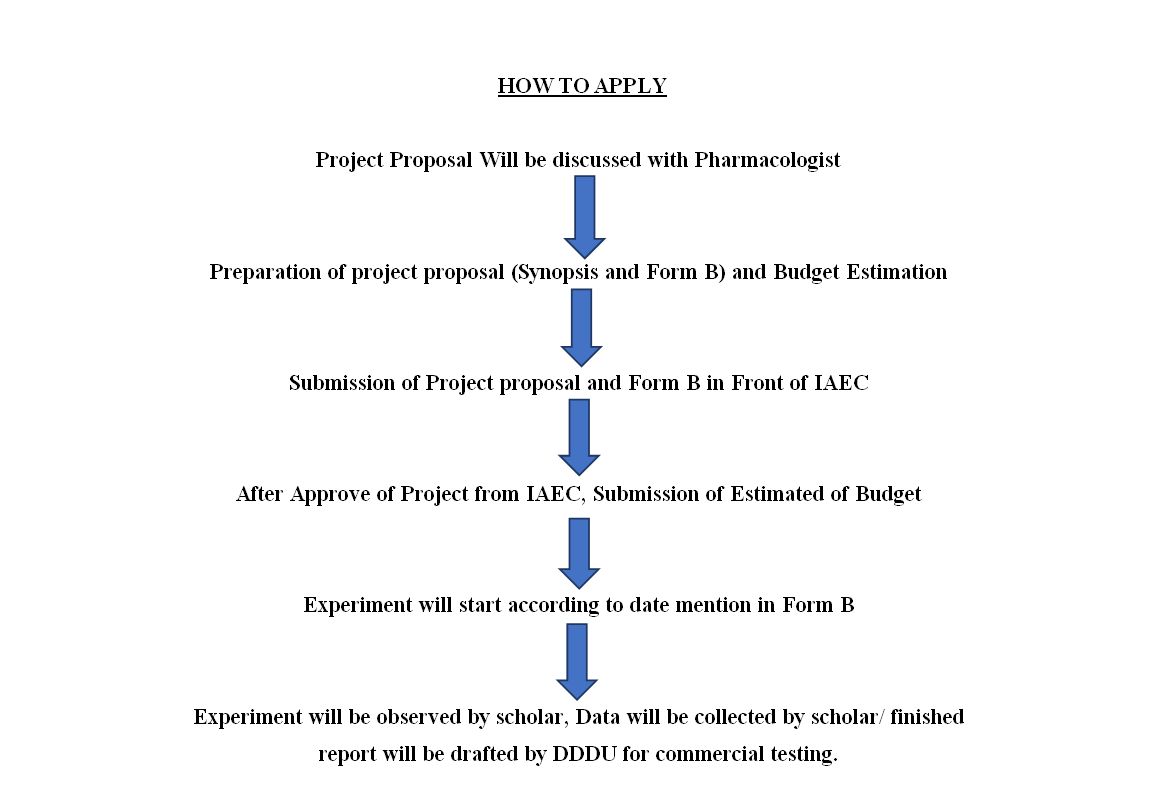 INFRASTUCTURE AND EQUIPMENTS DETAIL
Total Area – 10,000 Sq. ft.

LABBORATORY

Equipment detail

SAMPLE PREPRATION LABORATOTY

Digital weight balance, Hot plate with magnetic starrier, Hot Air Oven, water bath, Hot Air Oven

RAT ROOM

Rat cages, water bottle, cages Racks

MICE ROOM

Mice cages, water bottle, cages Racks

RABBIT ROOM

Rabbit cages, water bottle, cages Racks

BIOCHEMISTRY LABORATORY

Centrifuge, Urine Analyser, Haematology Analyser, Biochemistry Analyser, ELISA Reader, UV/Vis Spectrophotometer

HISTOPATHOLOGY LABORATOY

Microtome, Wax Dispenser, AutomaticTissue Processor, Microscope

CHROMOTOGRAPHY LABORATORY

HPLC

PHARMACOLOGY LABORATORY (IN- VIVO TESTING)

Digital Weight Blalance, Rota Rod, Digital Tele Thermometer, Small Animal Surgical table, Tail Flick Analgesia Meter, Digital Plethysmometer, Eddy's Hot plate Analgesio meter, PC based Digital Telethermometer

PHARMACOLOGY LABORATORY (IN- VITRO TESTING)

pH Meter, Karl Fisher Apparatus, Laminar Air Flow, Rota evaporator, Orbital Shaker, Incubator, Organ Bath assembly

Microbiology Laboratory

Under Development

WASHING AND STERLIZATION AREA

Autoclave

COMPUTER SIMULATION LABORATORY

Under Development

SAMPE STORAGE AREA

Double Door Refrigerator, BOD Incubator, Deep Freezer

LIBRARY AND ARCHIVE ROOM

Under Development

BIOMEDICAL WASTE STORAGE AREA

Dustbins
Important Documents of Drug Discovery and Development Unit
Pharmacology lab consists of highly sophisticated equipments to investigate the activity of various drugs.
There are total two pharmacology labs in the department, this lab is fully sterile and maintains an aseptic condition in order to carry out the experiments performed accordingly.
This lab mainly consist of- surgical tables, Digital weighing machine, Digital Rota rod, Organ bath, Digital tele Thermometer, Digital tail flick analgesiometer, Kymograph drum, Analgesia meter hot plate, Laminar air flow, Vacuum rotary evaporator, Orbital incubator shaker, Rotary vacuum film evaporator, Digital PH meter, Karl Fischer Titrator, etc.
There are house and facilities for experimental animals like Rat room, Mice room, Rabbit/Hamster/Guinea pig room etc. These rooms are in light, temperature and humidity controlled condition.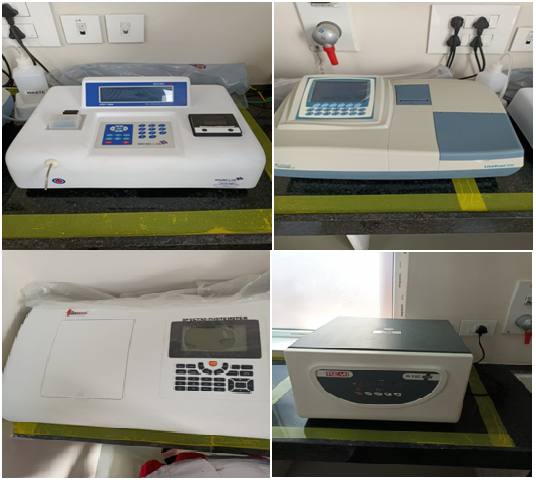 This lab is well equipped, computerized and fully air conditioned. The Biochemistry lab provides an extensive range of testing service and is highly equipped with different sophisticated equipments such as- Hematology Analyzer, Urine analyzer, Biochemistry analyzer, Elisa reader, UV visible spectrophotometer, Centrifuge etc.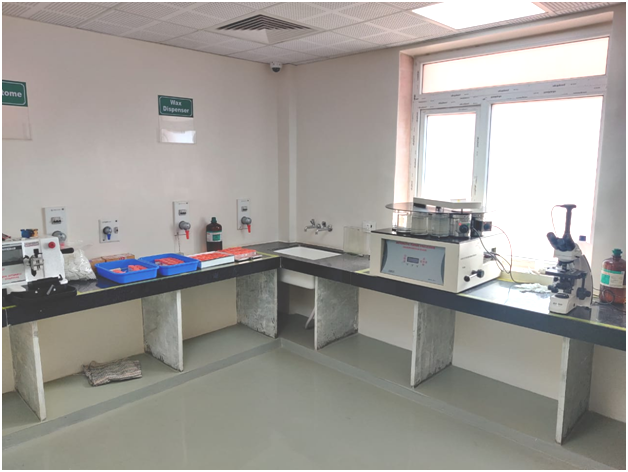 The Histopathology lab provides a number of services which mainly involves examining the tissue and detection of disease. This lab is highly sophisticated and provides a number of equipments which are automatic and are handled by trained staff.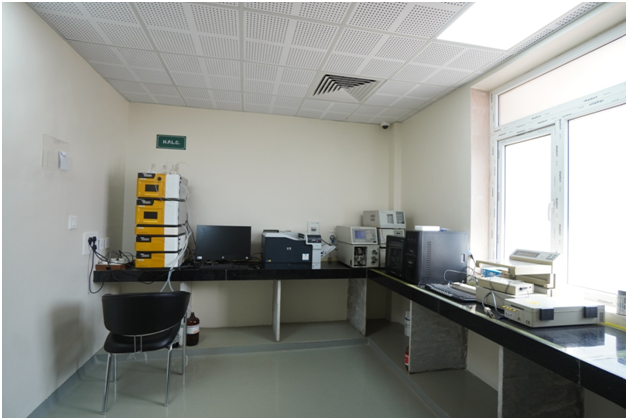 This laboratory mainly equipped with High Performance Liquid Chromatography (HPLC), this equipment is used in separating complex compounds in a provided sample. This lab is fully air conditioned and computerized.
This room is fully air conditioned and provides aseptic condition for sterilization.